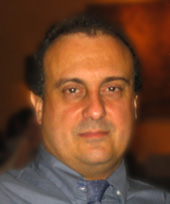 Oscar Plata

Full Professor

Department of Computer Architecture
University of Malaga
Spain
Research
My research experience is in the field of high-performance computing, targeting the efficient execution of parallel programs. Specifically, my research focuses on static and dynamic optimization techniques for high-performance execution of programs.
Currently I am coordinating the research group on Parallel Architectures, Programming and Compilers (PAPC). The main purpose of this group is seeking new developments to improve the program execution efficiency of high-performance processors and parallel computer systems.
Prior to this group, I worked on other topics, like dynamic loop scheduling for message-passing multicomputers, design of data-parallel and message-passing algorithms, design of data-parallel language (HPF) extensions to support sparse and irregular computations, vectorization of numerical algorithms, design of a data-parallel language (ACLAN) for computer simulation (ACLE), mapping codes on hypercube multicomputers, and design of broadcasting algorithms in computer networks.
I am a member of HiPEAC, the European Network of Escellence on High Performance and Embedded Architecture and Compilation, and a participating researcher of Euro-TM, an European Cost Action on Transactional Memories: Foundations, Algorithms, Tools, and Applications.
Research Students
Current researchers and graduate students:
Ricardo Quislant (posdoc)
Manuel Pedrero (PhD student)
Alejandro Villegas (PhD student)
Jose Manuel Herruzo (PhD student)
Conferences
10th Work. on Programmability Issues for Heterogeneous Multicores (MULTIPROG-2017) (in conjunction with 12th Int'l. Conf. on HiPEAC), Program Committee
SAMOS XVI: Int'l. Conf. on Embedded Computer Systems: Architectures, Modeling and Simulation, 2016, Program Committee
9th Work. on Programmability Issues for Heterogeneous Multicores (MULTIPROG-2016) (in conjunction with 12th Int'l. Conf. on HiPEAC), Program Committee
SAMOS XV: Int'l. Conf. on Embedded Computer Systems: Architectures, Modeling and Simulation, 2015, Program Committee
Int'l. Conf. on Parallel Computing (ParCo) 2015, Program Committee
8th Work. on Programmability Issues for Heterogeneous Multicores (MULTIPROG-2015) (in conjunction with 10th Int'l. Conf. on HiPEAC), Program Committee
SAMOS XIV: Int'l. Conf. on Embedded Computer Systems: Architectures, Modeling and Simulation, 2014, Program Committee
7th Work. on Programmability Issues for Heterogeneous Multicores (MULTIPROG-2014) (in conjunction with 9th Int'l. Conf. on HiPEAC), Program Committee
SAMOS XIII: Int'l. Conf. on Embedded Computer Systems: Architectures, Modeling and Simulation, 2013, Program Committee
Int'l. Conf. on Parallel Computing (ParCo) 2013, Program Committee
6th Work. on Programmability Issues for Heterogeneous Multicores (MULTIPROG-2013) (in conjunction with 8th Int'l. Conf. on HiPEAC), Program Committee
Int'l. Workshop on Multicore Cache Hierarchies: Design and Programmability Issues 2012 (in conjuction with ISPA 2012), Organizing Committee
SAMOS XII: Int'l. Conf. on Embedded Computer Systems: Architectures, Modeling and Simulation, 2012, Program Committee
5th Work. on Programmability Issues for Heterogeneous Multicores (MULTIPROG-2012) (in conjunction with 7th Int'l. Conf. on HiPEAC), Program Committee
SAMOS XI: Int'l. Conf. on Embedded Computer Systems: Architectures, Modeling and Simulation, 2011, Program Committee
Work. on Exploitation of Hardware Accelerators (WEHA) 2011 (in conjunction with Int'l. Conf. on HPCS), Program Committee
4th Work. on Programmability Issues for Heterogeneous Multicores (MULTIPROG-2011) (in conjunction with 6th Int'l. Conf. on HiPEAC), Program Committee
Int'l. Conf. on Parallel Computing (ParCo) 2011, Program Committee
3th Work. on Programmability Issues for Heterogeneous Multicores (MULTIPROG-2010) (in conjunction with 5th Int'l. Conf. on HiPEAC), Program Committee
SAMOS X: Int'l. Conf. on Embedded Computer Systems: Architectures, Modeling and Simulation, 2010, Program Committee
Work. on Exploitation of Hardware Accelerators (WEHA) 2010 (in conjunction with Int'l. Conf. on HPCS), Program Committee
Euro-Par 2009, Vice chair Topic 11: Multicore and Manycore Programming
SAMOS IX (IC-SAMOS): Int'l. Conf. on Systems: Architectures, Modeling and Simulation, 2009, Program Committee
Int'l. Conf. on Parallel Computing (ParCo) 2009, Program Committee
Int'l. Conf. on Parallel Computing (ParCo) 2007, Program Committee
Euro-Par 2006, Local chair Topic 4: Compilers for High Performance
Int'l. Conf. on Parallel Processing (ICPP), 2005, Program Committee
Euromicro Conf. on Parallel, Distributed and Network-based Processing (PDP), 2005, Program Committee
Int'l. Conf. on Parallel Computing (ParCo) 2005, Conference and Organizing Committees
Euro-Par 2004, Vice chair Topic 11: Numerical Algorithms
Member of the Euro-Par Advisory Board